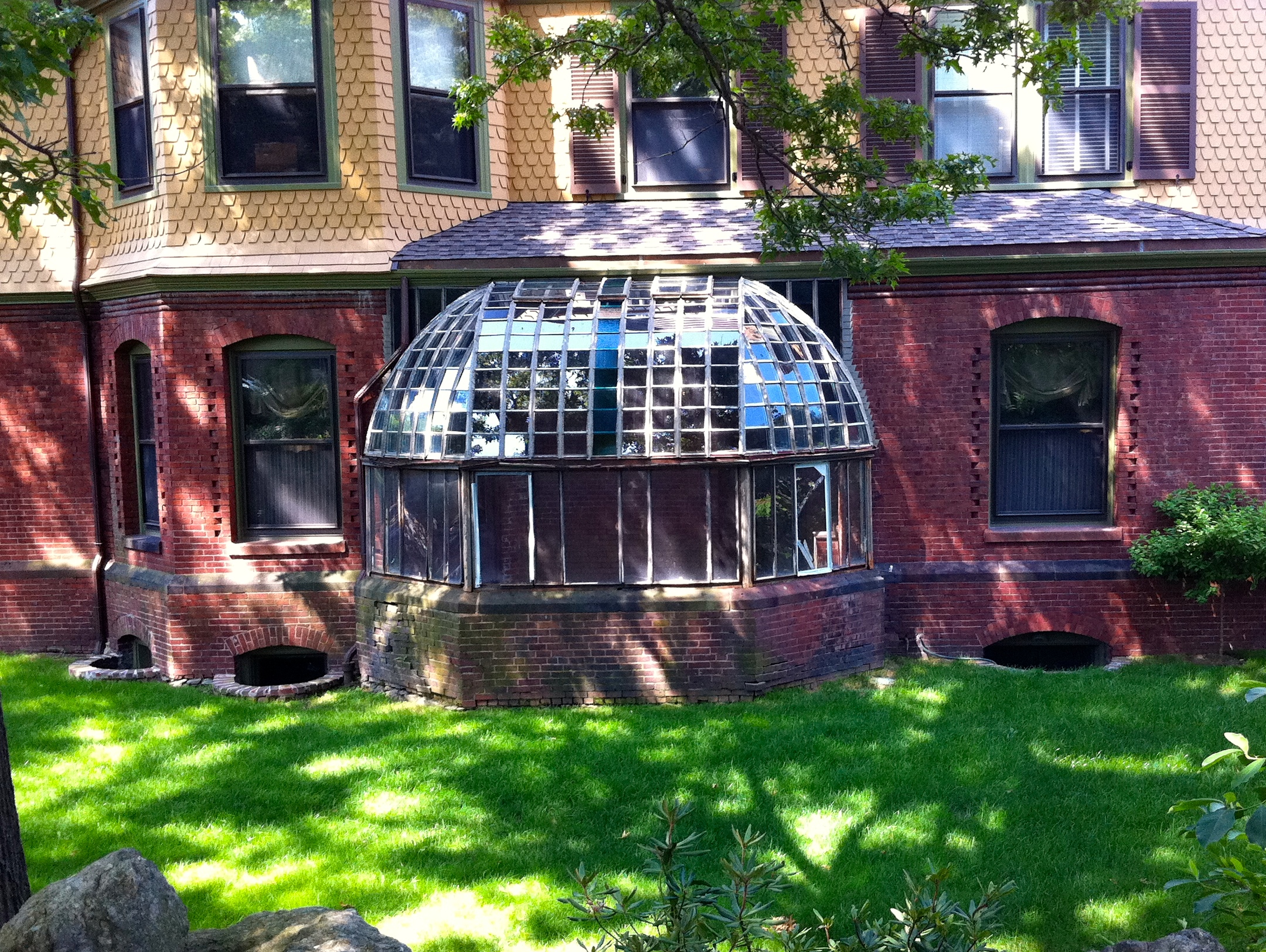 Storrow House
"The landscaping and the terrace was the star of the show. Thank you, thank you, thank you — to you and Luiz and everyone who was here tirelessly (and quite wet) for the past six weeks. Everyone was bowled over by the yard. People who hadn't been to the house before were impressed, but people who HAD been were doubly impressed because they knew what magic you worked over the past month. WOW!"
— B, Brookline, MA
Project Overview/Storrow House
The grounds of this mansion on the National Register of Historic Places were designed by famed landscape architect, Frederick Law Olmsted. Using natural plantings, Faithful Flowers brought the space back to its former glory and updated it for family enjoyment.
Terrace Before/Storrow House
A forlorn backyard is transformed into a spectacular entertaining spot. Faithful Flowers sourced the perfect brownstone to match the existing stone on the house.
Terrace After
Hand,picked mulit-pattern bluestone provides the perfect terrace floor for a natural yet elegant retreat. Faithful Flowers provided the client with furniture choices to complement the stonework.
The Valley Before/Storrow House
Typical of Frederick Law Olmsted, the property boasts a bridge and valley. The challenge was to restore it to a natural state.
The Valley After/Storrow House
Hidden Stairs to the Valley/Storrow House
Rhododendron and Andromeda hide the stairway to the valley.
Storrow House
Viburnum trees flank the stone path and provide an entry point into the valley from below.
Storrow House
A stone pathway winds through the valley so that one may explore and enjoy the plantings. A "meadow" was created to provide summer color and to attract butterflies. Plantings include Butterfly Bush, Coneflowers, and Salvia.
Olmsted Bridge
A miniature Central Park! The bridge blooms with Rhododendron in the spring and is lit up beautifully at night.
The Rose Garden/Storrow House
As we cleaned out the beds we found remnants of an old rose garden. Our Rosarians designed and built a spectacular garden that blooms from May until December!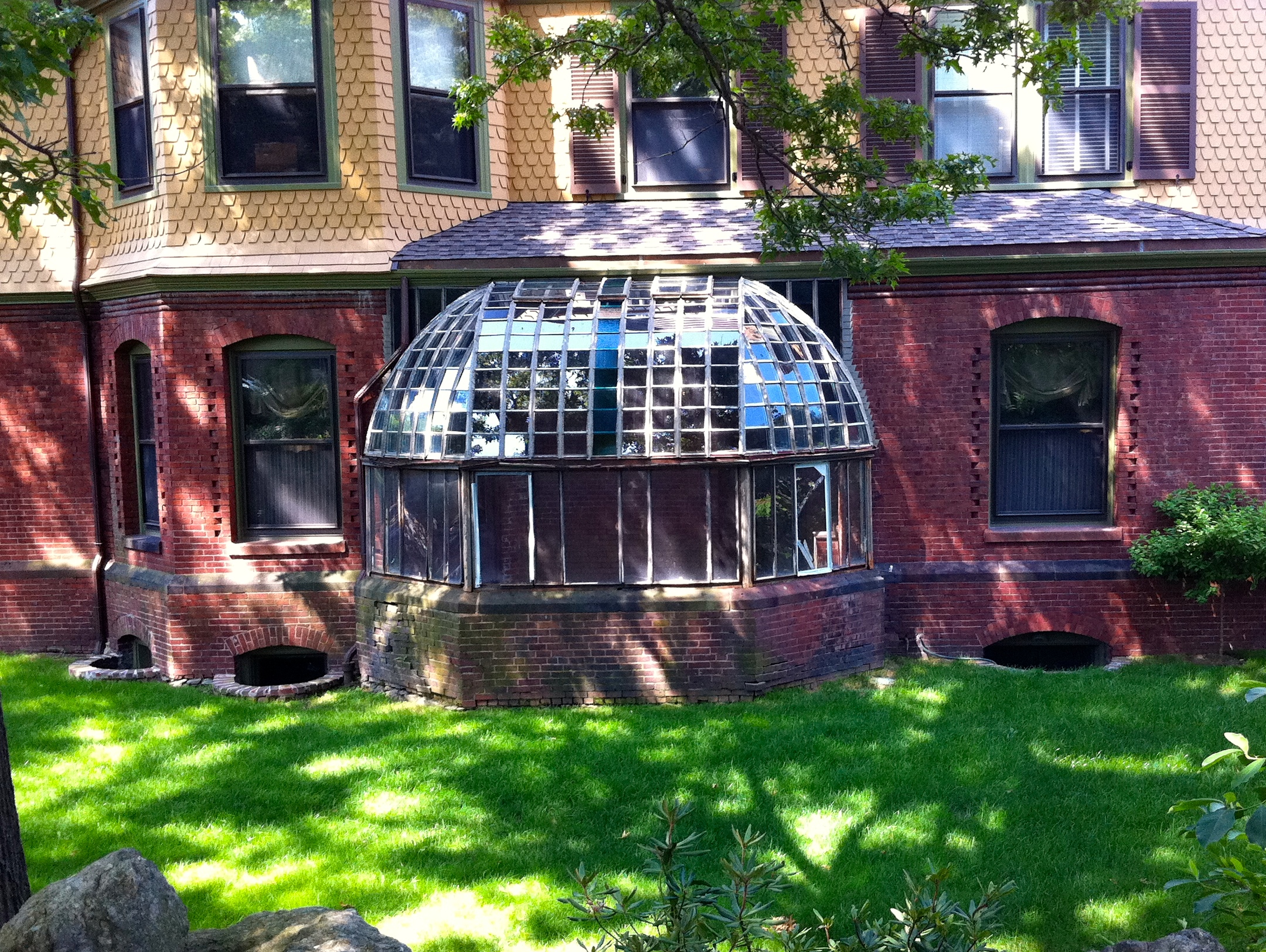 The Conservatory/Storrow House
This beautiful little jewel box was in extreme disrepair. Faithful Flowers assembled a team of historic renovators to bring the structure back to life.
Storrow House
Old windows were taken out and the existing steel structure was repaired.
Storrow House
The crumbling brick foundation was taken apart and repaired from the ground up.
New Windows/Storrow House
New custom lower windows were installed.
Artistic Glass/Storrow House
Historic glass artist Dan Maher designed and installed the umbrella glass.
Almost Finished/Storrow House
Glass is installed, copper gutters are fashioned and an interior brownstone floor is completed.
Fini!
A historic gem has been restored. The conservatory is now ready for three season use.