It was another frigid January day when the management at the Mall at Chestnut Hill called me and asked if I would participate in their spring flower show. I knew it was a big commitment and a lot of work, but I decided to give it a shot. It might be fun and after the brutal winter, we all needed a colorful, floral infusion. I was offered a prime space in the center court. See the "BEFORE" photo below. I signed on and immediately picked up the phone and called my friend Ken Dietz(http://www.dietzandassociates.com.) Ken is a well known interior designer and we often collaborate on projects. While he designs the home's interior, I translate his themes and colors into the exterior landscape. We had a meeting or two at the Mall and threw around a couple of ideas.
It was looking like a traditional garden until I brought my design partner and Landscape Architect, Steve Woods into the picture. Steve took all our elements, and designed a modern,clean, simple space with waves of bold colors. It was important to Steve to integrate the existing bronze sculpture into the plan. He did this by adding a tree at the top of a small hill so it would appear that the sculpture of the girl was peering into it.
I found my tree and plant material on a snowy cold March day at the wholesale nursery. It felt great to be inside the colorful, oxygen rich greenhouse.
6PM the Mall closed and the team transported the delicate plant material, two yards of loam, water features and supplies through the unusually cold temps and into the mall.
After we prepping the entire area, I brought in my friends from TMturfscapes.com. It was too early to install sod, and I really wanted to showcase Turfscapes amazing products. They sell a variety of artificial turf that actually looks like a real lawn. I told them I wanted my personal favorite, the product with the "dead" pieces of grass woven in! Some backyards are just too shady to grow grass. Turfscapes can install this product on roofs, decks, patios and lawns and it looks green and great all year long!
Next, we wired silk dogwood flowers into the Crepe Myrtle tree and added clear Edison bulbs. The combination of live plant and silks produced a convincing "blooming" tree!
Now it was time to add all the plant material and set the water features.
Just past one in the morning the project is completed.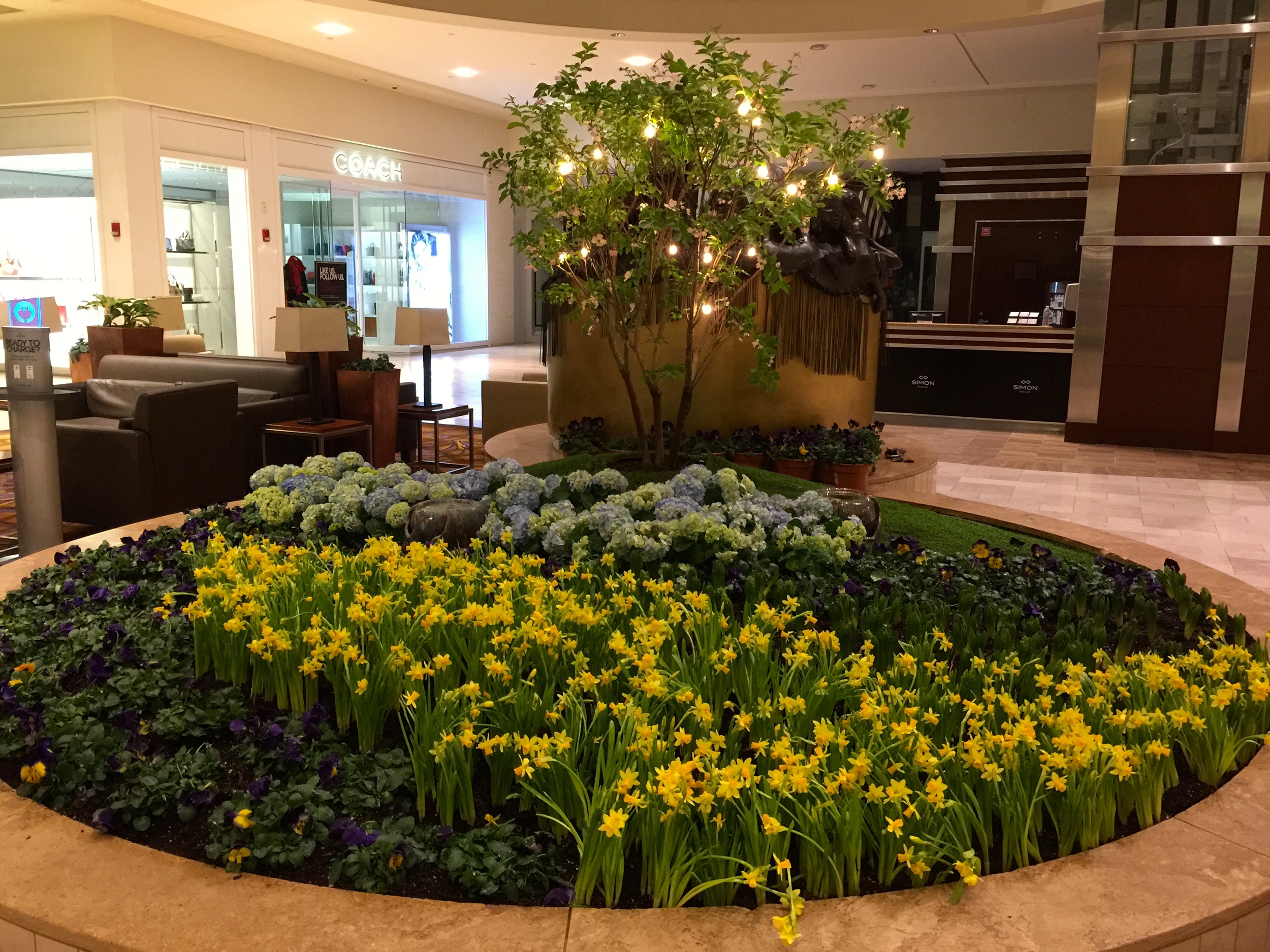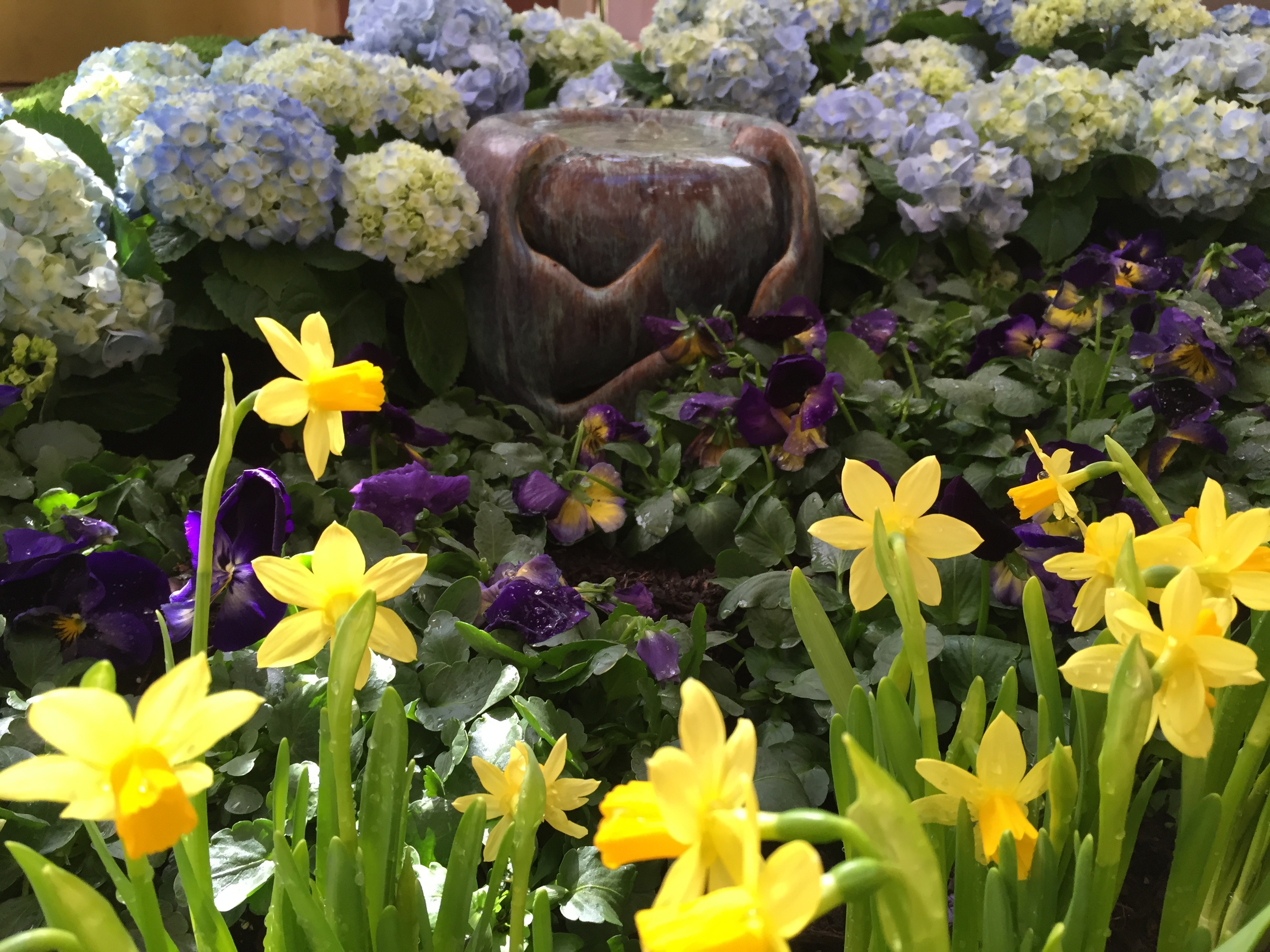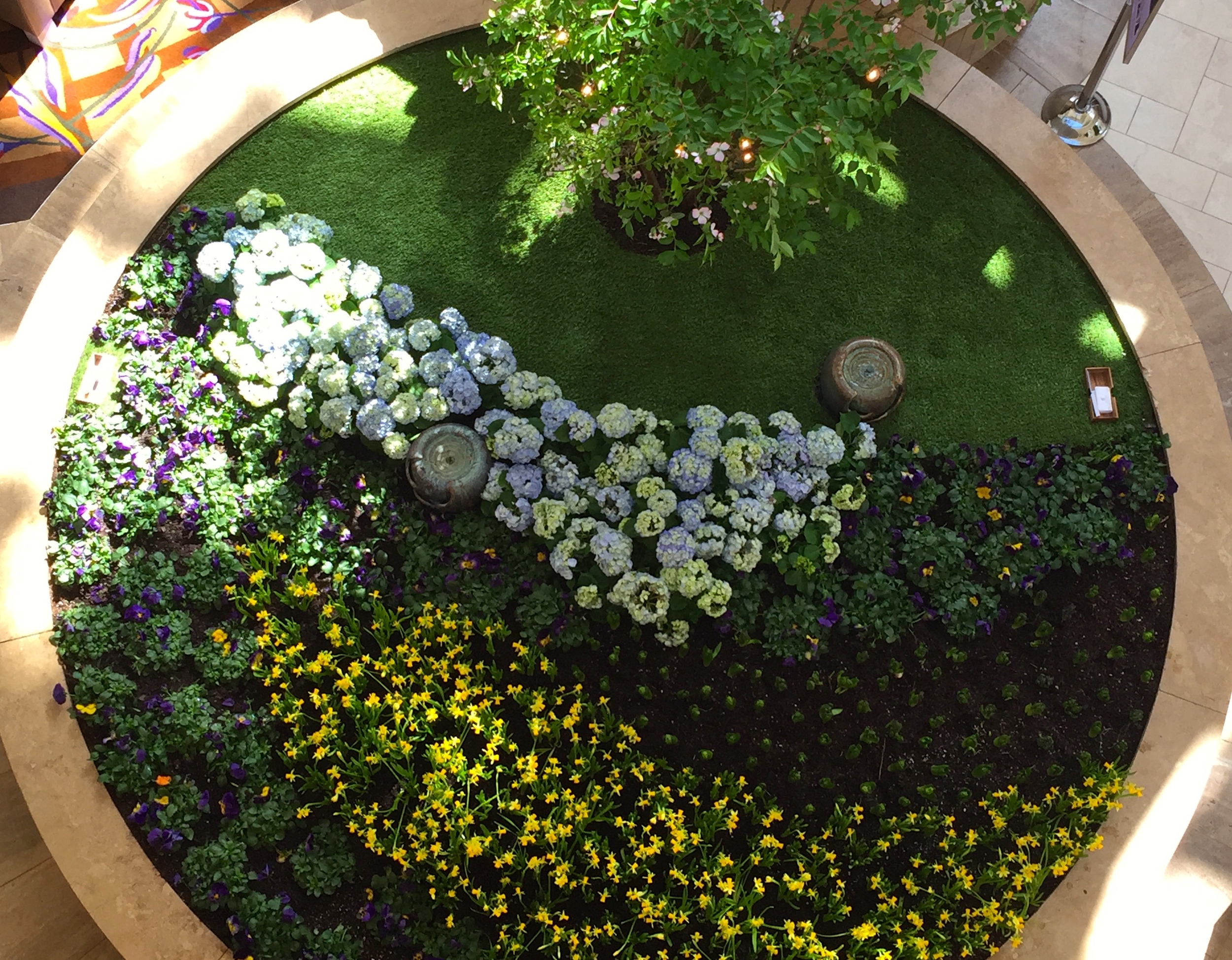 When the Mall opened in the morning, It was fun to watch the public enjoy this burst of spring we have all been starved for! Here's a garden lover bringing some images home!